TESTIMONIALS RECORD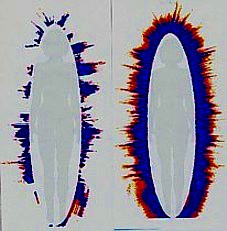 I have had lots of heart-warming comments from clients about Gaia Essences over the years. My essence orders come in from customers from all over the world, which I feel honoured and privileged to receive. Below I have added some of the comments I have received more recently, most of them being just since 2012.

11.11 - My friend and client, Jo Ward, kindly took the trouble to get the two Kirlian pictures above, taken of her aura before and after using my Gaia Orchid Essence Spray "Aura Cleanse and Seal". The first photo on the left side is of her aura before using my Aura Cleanse and Seal Spray. It shows that she has probably been overworking, so her aura has become much depleted in energy. The second picture on the right was taken immediately after a single use of this Angel spray. It shows that her aura has been transformed into a strong, protective shield, that wiil allow no negative energies to enter. Jo designs websites and gives advice on marketing your business. She is based in London. Her website is www.purplepromotions.com


27.8.21 Thank you that you exist Lovely Cathie and Thank you for all your amazing work. - J., London
20/8.21 - Thanks so much Cathie for such care. Really thanks. Even thanks for making such good essences, like the combination one of White Ginger.. V.,Punjab, India.



15.8.21 This morning "Wake up call" jumped out at me, and I read it in disbelief about the church before and government now. 

Itís exactly what I see around me since start of 2020 and people donít see it. People with degrees and in universities.They donít think for themselves 
any more for good year and half. I didnít read each individual essences info. My head cannot take it how much information is there, so I applaud you so much for all the hard work! 
I can only imagine how hard that must have been but one day you would be put on pedestal helping humanity❤️❤️❤️

It will be extremely popular essence for the awakened people and those who are awaking slowly but surely. J, London



08/08/21 -You are here to help Lightworkers and others to make WORLD BETTER PLACE. J, London

27.12.18 - Thank you for all your lovely essences which helped me along the way throughout last few years. Best wishes J.
18.12.16 - "You are an Angel!! They work, I feel so much better when I use them.... What a beautiful gift you have."
NK, North Carolina, USA

24.12.14 - "First of all, let me wish you a happy and peaceful Christmas.
I have been using your Essences for a few years now and I would like to say how effective and wonderful your products are for me. I am a writer and I absolutely rely now on the Hina - Goddess of the turquoise Ray to open up the "muse". You have a rare gift which in turn is helping so many people."
Once again, many thanks.
V.C. - Ilford, Essex, UK

24.04.14 "Today Cathie, I was meditating with your freedom bottle in my hand and I received a multitude of Rainbows in my palm. When I then came onto your site the first thing I saw was 'RAINBOW THERAPY' and I had no idea you did this. I thought I would share this story. I love it when life works in Divine Alignment. PS: I am loving the Magdelane spray." With Many Rainbows, Indra Singh, Harrogate.

16.04.14 "My back sends you it's thanks for taking such good care of it! I'm feeling younger!" - Comment by Tiverton resident following massage/Bowen treatment.

31.10.13 "Last night I used the Magdalene Gift Spray on members of my spiritual development group. I sprayed it on the soles of their feet. The Magdalene Spray had a very strong effect on them, that they had never encountered before. They became aware of a very strong unknown energy in the room Then one man felt a sudden very strong connection to Mary Magdalene, which he had never experienced before, and another lady who had suffered from backache for some time, felt her pain being "blown" away. I felt I would like to order another bottle of this wonderful spray right away" - L. Kinsella, Southbourne, Bournemouth, Dorset

12.09.13 On Lithium Quartz gem essence - "had too much tea to drink so used it (Lithium Quartz) the other day, and it sent me nodding off in 15 minutes. If your other essences are as potent as this one I am certainly going to be back" - Nickkie S, UK.

12.08.13. "I gladly buy your essences because they are awesome (super), and I am grateful for your advice." - M. Stanojevic, Ljubljana, Slovenia.

29.04.13 - " I just received the last package from the previous order. Everything arrived in perfect condition. I am receiving such tremendous benefits from your work/products and want to thank you for having such a positive impact on me. The detailed information you provide for each product allows me to really focus and apply intent to the use of each product - and to understand how it relates to my growth. I look forward to receiving this new order! - LB, Dallas, Texas, USA.

11.01.13 - "Hi Cathie, I just wanted to take a minute to thank you for the Preseli Bluestone and other essences. I am really enjoying them. Your essences help me so much." Blessings, L. Johnson, Oregon, U.S.A.

09.01.13 - "Dear Cathie, Just to let you know my essences have arrived and I wanted to thank you for the free essence. I love what you sent me. It was spot on, can't wait to use them. Thanks so much." Best wishes, Cody - New York, U.S.A.

21/08/12 - "Cathie, you can wallpaper your house in comments and praise from me about your work and your products. You and they are amazing... I will tell the whole world and sing your praises" - Dr. Susie Anthony, Manor House, Somerset, UK. www.PSALifeMaster.com

10/08/12 - "Thanks so much. The order arived today. I am very excited about trying everything out. Your essences have helped me so much" - L. Johnson, Oregon, U.S.A.

12/4/12 - "That was one of the best massages I have ever received." - massage therapist, Tiverton, Devon, UK.

14/04/12 - "You are so kind Cathie to think of me and help me save a few dollars. What a wonderful business model to take the time for such sincere and attentive customer care. I truly appreciate it. Blessings to you." - J. Joshua, Washington, USA.

07/04/12 - "Thank you very much for a long answer to my question. It was really nice and kind advice to me. I'm sure that I will enjoy your essences much more (now)". - M. Kato, Yokohama City, Japan

07/4/12 -"I am really enjoying your essences. They are very effective to me"- M. Kato, Yokohama City, Japan
23/2/12 - "Thanks for the thoughtful and fast action related to my order. I checked out your website and the great products you offer. Your products come highly rated from Lyn Johnson." - T. Mullenbach, Arizona, USA

22/2/12 - "The essences arrived yesterday. I am ecstatic to receive them so quickly". - L. Johnson, Oregon, USA

16/2/12 - "I look forward to receiving your order. I really enjoy your products." - L. Johnson, Oregon, USA.

05/2/12 - "Cathie creates beautiful healing essenes and sprays, which I recommend very highly. Thank-you". - Z. Hudson, Sidmouth, Devon, UK

02/2/12 "They've arrived and they're lovely. Thank you." - C. Barrow, Oxford, UK

02/12/11 - "I want to thank you so much for your wonderful essences and for the Sekhmet essence. They are amazing and doing magical things within me. ... It's amazing how things happen perfectly and your essences are just what I need right now." - M. Im, Kuala Lumpur, Malaysia.



Previous years comments from clients -



"When I read the description of your "Freedom Essence" (in the Magdalene Flowers range) I cried. It resonated with me at a deep level and I felt it had been written especially for me. Only last year I had finally accepted that I was a pioneer. "Freedom" described exactly what I'd been experiencing. Recently I've been aware of the victim role and the essence description confirmed this. Using "Freedom" has helped me to be more discerning of assuming victim status in situations, and taking corrective action and responsibility. I fel much lighter after taking the essence. A very insightful journey. Thank you." - D. Petts, BFVEA member, UK.

"At present we are using them (Gaia Essences) in a new way in a healing system, and we are finding them of great benefit. We have found them to be of a higher vibrational level than a lot of the other essences we have used". - D. Cairns, USA.

"No worries, I've got the Aura Cleanser to keep me going - I love it!" - Y. McMeel, UK.

"Thank you so much for your reply, you are such a sweet soul! Your new essence (Angel Orchid "Leading Light") sounds like a wonderful creation, and I can't wait to place my first order for it! ... I am truly grateful for your efforts in bringing out an essence that no doubt will assist many in fulfilling their life's purpose. I told a friend of mine, and she immediately said she will place an order too. ...I also want to thank you for your contribution to us all through your essences. Essences are a wonderful thing!" - N. Elk, UK

"I passed on your your details to my lovely friend Lisa, who I think has ordered from you, so we're spreading the world up here in Scotland!" - A. Orviss, Scotland

"Thanks, Lisa has received her sprays and tells me they are divine!" - A. Orviss, Scotland