Featured Products

WELCOME TO GAIA ESSENCES
NEW, NEW, NEW ESSENCES for 2021.

31.10.21. Halloween is a time when the veils between Earth and the world of Spirit are traditionally thin. Tonight I was inspired to add Sunset Aura Quartz to the Gem Essences range. It is a wonderful essence to use in these difficult times for inspiring success and releasing old behavioural patterns that get in your way of achieving your positive aims.
29.09.21 Zeolite essence has now been added to the Gaia Essences gem range. This beautiful crystal essence removes anything that is harmful to one's subtle bodies, including dark energies, artificial constucts, past life vows and stuble level DNA additions. It also blocks what it has cleared away from gaining re-entry.
01.09.21 The new Champagne Aura Quartz essence has now been added to the gem essence range. Champagne Aura Quartz is a very attractive straw-coloured gem with lots of clear and rainbow coloured bubbles within its matrix. The essence overcomes fear and anxiety, dissipates stress and promotes a feeling of happy contentment.
28.08.21 The Overcoming Fear combination essence has now been updated with the addition of many new essences that focus specifically on helping humanity cope with the difficult times we are currently experiencing.
8TH AUGUST 2021. A very special new combination essence called "Wake Up Call" has been added to the Sacred Place essence range, following trips to St. Michael's Mount and Barrow Mump, to make this essence. After more research additional essences were added to the initial Michael/Mary Energy essences, for the purpose of reconnecting mind, body and spirit to increase the speed of our spiritual evolution. Scroll down to the very bottom of the Sacred Place essence list to read the details of this essence for lightworkers of the World.
30TH July 2021. Gaia Essences has added two much needed essences to help cope with the difficult times the World finds itself in at present. The first is Chlorite (Phantom Quartz) gem essence listed in the Gem essences range. It resonates with AA Raphael to purify and realign all levels of one's being with optimum soul energy. The Light Sabre essence listed in the combination flower and gem essence range is the second new essence for sale from today. It is for those who seek truth, harmony and freedom to maintain their emotional and mental well-being.
St. Bridget's feast day 2021. Gaia Essences has added a new, very special, much researched combination essence to the Sacred Place Essence range. It is called "The Flower of Life." It is designed to help raise the vibrational frequency of humanity through these extraordinary, but difficult times. It contains potentised Holy Well spring water and the newly discovered Trigonic Quartz, as well as Brandberg Amethyst from Namibia, the rare turquoise Ajoite, and Quantum Quattro gem essences, plus a sound essence made from the 528Hz tuning fork.
We've also added the Brandberg Amethyst to our gem essence range. The crystal was purchased from its source in Namibia. The essence is made from a beautiful clear crystal imbued with light clouds of Amethyst and Smoky Quartz .It has the unique ability to restore one's equilibrium on all levels, as well as to restore one's original etheric blueprint and remove mental constructs, implants and past-life contacts.
We have a new essence combination now in the Bach Flower essence range. "Lighten Up" is for these difficult times to overcome depair, hopelessness and disempowerment and replace them with light-heartedness, the ability to laugh, and faith that these problems will be beaten.
NEW! There are three new exciting essences in the Sacred Place range that are now for sale. The Labyrinth essence, made at Chartres Cathedral in France, is especially for equalising male and female energy flows.

NEW! The Diamond Light Template essence assists the work of of the template recently implanted in the Earth by higher dimension beings to assist our timely consciousness expansion and spiritual advancement, and to fill our beings with the Twin Flame Divine Love, in order to throw off past mind control implants and distortions in our DNA patterns.
NEW! The Phoenix Essence was launched on the 21.12.20, and given to those up on Glastonbury Tor that day. It celebrates the end of the old ways and the birth of the new Age. The essence offers us assistance moving from a heavy dimensional energies towards a higher dimensional state.
NEW: The "Calm Down" Bach Flower combination is now available for sale. It helps to alleviate high states of worry, panic and fear.
I have a Gaia Essences facebook page on Facebook. It is called GAIA FLOWER AND GEM ESSENCES. I put up info there about any new essences I make. If you wish to make a comment about these essences or ask me questions please ask to be a Gaia Essences Facebook page member so that you can contact me. ******************************************************
The GAIA ESSENCES website offers a wonderfully diverse and thoroughly researched range of essences here, brought together over a number of years.
We make 15ml flower, gem and environmental essences, as well as super, uplifting essential oil and essence combinations in 10ml roll-on colognes, 15ml sprays and 50ml spritzers. You can find all the details of the essences by clicking on the range tabs to the left-hand side of this home page, and then scrolling down the page(s).
If you are looking for something specific, type in the name of a flower/gem essence, or the benefit required in the search box at the top of this page, to quickly find exactly what you want.
On this Gaia Essences website there are over 90 Hawaiian essences and nearly 200 Gem essences on offer, making them two of the largest specific essence ranges in the World. There are also Angel Orchid and Gem essences and sprays, Bach Flower, Goddess, Lily, Miasm, Pet, Personal Choice, Magdalene Flowers, Overcoming Blocks to Happiness, Sacred Place environmental essences and Zhi essence ranges.
The essences are professionally handmade deep in the green valleys of Devon, in the Languedoc (in France), in Egypt and on all of the main Hawaiian Islands.
There are a number of essences for sale that are not yet listed on this website, such as Allium Globemaster, Comfrey and Pennyroyal flower essences, and Afghanite, Axinite, Black Kyanite, Clinohumite, Cryolite, Bixbite, Blue Quartz, Carnelian, Cleavelandite, Elestial Smoky Quartz, Fire and Ice Quartz, Indigo Gabbro, Gaia Stone, Grand Canyon Wonderstone, Greenlandite, Hauyne, Heubnerite, Herkimer Diamond, Iolite, Limonite, Luxullianite, Marialite, Merkabite Calcite, Mica, Molybdenite, Mtorolite, Nirvana Quartz, Novaculite, Nunderite, Okenite, Paraiba Tourmaline, Pearl, Petalite, Phosphosiderite, Rainbow Covellite, Stichtite, Stilbite, Strombolite, Sulphur, Rosophia, Tibetan Quartz, Tibetan Tektite, Ussingite, Violet Flame Opal, Voegesite, Winchite White Chalcedony and Zeolyte gem essences. If you would like to order any of the above please place an order for any single essence (at £6.25 each) and then let us know by email or in the shipping info box on the order page that you wish to exchange the essence you ordered for one of the above unlisted essences. If you can't find what you are looking for, either above or in the main range listing, please send an enquiry to cathie.gaiaessences@gmail.com, as it may be available, even if not listed here.
TERMS AND CONDITIONS
Please note that customers automatically agree to Gaia Essences' terms and conditions by placing an order with us. Once you place an order it will be mailed by UK standard first class post, standard international airmail post, or for the EU. For larger orders I suggest you contact me at cathe.gaiaessences@gmail.com to get details of the Royal Mail track and track service. I keep a proof of postage for all orders that will be provided upon request, but Gaia Essences will not replace orders lost in the post. P and P charges are listed below.
SHIPPING COSTS - Please note new changes.

1st Class mail to UK customers is £4.50 per item, plus an extra 0.15p for each additional item. This is the standard charge that I have a proof postage for. It does not entitle any customer to a refund/replacement of essences ordered if it does not reach its destination
Postal delivery charge to EU countries is now a signed for and tracked service only. It is £10.85, plus an extra 0.35p for each additional item. Please be patient. It is taking 12 - 18 working days to reach its destination during 2021.
The International group 1 airmail charge is £15.85 for one item, plus an extra 0.50p for each additional item. The international group 1 includes the USA and Canada, plus other middle distance countries. Please note that the UK Royal Mail, together with the US mail service, have vastly increased their mail prices in 2020, for items going to the USA, increasing from a £9.00 charge in March to well over £13.00 now for a small parcel. Customers ordering from any other International group 1 countries, except for the USA, will be refunded the difference by Gaia Essences via Paypal, if the postal charge is less than USA postal charges. This standard international charge does not include signed for and tracking unless requested, and therefore, regretably, essence ordered will not be replaced or refunded if lost in the post.
Postal delivery standard airmail charges to International group 2 countries eg. Australia and Japan, are £10.30 for one item, and 0.95p for each additional item. Regretably no refund or replacement of essences is offered, unless the signed and tracked service is requested.
If you are placing a large essence order either in the UK or outside the EU you may wish to add an extra Royal Mail tracking/insurance service. Please email us at: cathie.gaiaessences@gmail.com to enquire about the cost of that service.
THERAPIES AVAILABLE - Cathie is a professionally trained complementary therapist, with more than 20 years experience. If you would like to know more about what therapies are offered please click on the "therapies available" tab on the left side of this page, below the essence ranges, for details of all the therapies at Rainbow Therapy, in mid Devon .
Please send any email enquiries to cathie.gaiaessences@gmail.com
or telephone
01884 259130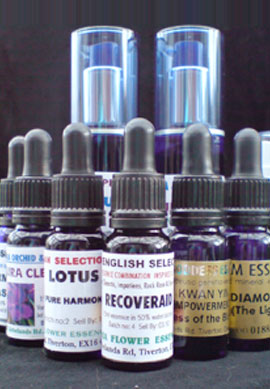 What are Flower and Gem Essences?
Essences are made for the purpose of correcting out-of-balance mental and emotional states. Each bottle of essence (unless otherwise stated) holds a 50/50% combination of Scottish organic spring water containing the subtle signature of the gem/flower it has been exposed to, and French brandy - that acts as a fixative and preservative. The healing powers of flower essences was rediscovered by Dr. Edward Bach in the 1930s. His work was based on Paracelsus' 16th century development of the doctrine of signatures.
Paracelsus' belief was that "Nature marks each growth... according to its curative benefit."
To make a flower essence, flower heads are immersed in spring water, and placed in sunshine for up to three hours. The subtle signature of what makes those particular flowers different from another flower species is then said to be held within the water molecules. The action of the sun's heat upon the water causes the hydrogen and oxygen bonds within it to temporarily separate. The flowers are then removed from the water and alcohol is added as a preservative and to fix the plant's subtle vibration within the water. A few drops of this mother essence are added to a 15ml bottle of water with alcohol to make a stock essence for sale to customers.
More recently, Dr. Masaru Emoto has demonstrated, through photographing ice crystals, that water carries the vibrations of anything that is put in contact with it, from flowers, gems and essential oils, to sounds and the surrounding environment.
---